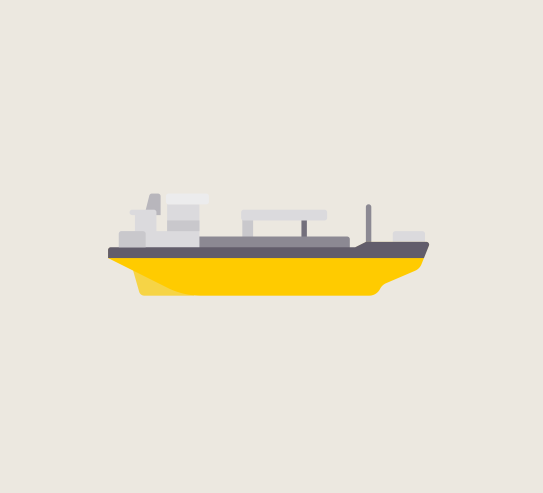 Inland shippers have been paying VAT on bunkering since 2012. The VAT can be recovered from most EU member states. Tip: with regard to price differences, it is advantageous to bunker downstream. In the Netherlands, for example. Alfa Transport Service serves inland shipping in two ways. Firstly, with the recovery of VAT, and secondly with the pre-financing of this amount. What is important here is the careful handling and responsibility of the administrative obligations to be transferred to specialists. They handle the process quickly, effectively and reliably. More about the process can be found below.
All EU member states reimburse VAT on fuel and toll to CRT (Commercial Road Trucking) entrepreneurs. In a single country, (part of) the excise duty also falls under this scheme. Different rules apply to activities that do not fall under CRT. This concerns, for example, fleet, ships, fairs, et cetera. Contact us to request more information about the different regulations and exceptions in Europe.
Alfa Transport Service has been a specialist in recovering foreign VAT & excise duties throughout Europe for thirty years. The independent status means, among other things, that changing one's fuel card has no consequences for our cooperation. This applies to Normal Refund and pre-financing.
Tightly directed cash flow management is of vital importance to entrepreneurs. Do you prefer not to wait around for the claim? Then opt for pre-financing. The non-recourse solution for foreign VAT and as the case may be excise duties. It costs a little more, but the money is in your account within a maximum of ten working days. Guaranteed. The tools for this: Turbo Refund, Fast Refund and Net-Invoicing.
Regular VAT recovery
Alfa Transport Service is a specialist in recovering foreign VAT and excise duties on fuel and tolls. This concerns amounts that run high when the customer is more active outside their own national borders.
Pre-financing VAT
Alfa Transport Service helps entrepreneurs with pre-financing of the foreign VAT refund. This advance payment immediately improves the liquidity and therefore, also the solvency of the company.
'Due to their right knowledge and skills, we let ATS take care of our VAT submissions.'
Nabuurs Supply Chain Solutions
'Due to their right knowledge and skills, we let ATS take care of our VAT submissions.'
Nabuurs Supply Chain Solutions